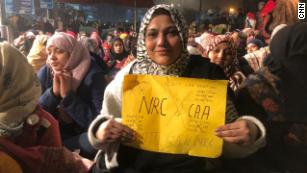 MY NAME IS SHABANA AND I'M AN INDIAN  
By Neel Anil Panicker
SHABANA,32, SHAHEEN BAGH, DELHI, INDIA:
My name is Shabana Parveen and I am not a terrorist. On the contrary I am just an ordinary woman, a middle aged married woman with a husband and four kids, the last as young as eleven months old.
What am I doing here? I know the question is etched on your mind, its visible in that look of shocked nonchalance with which you stare at me.
And its not just you. There are several others too who've fallen short of asking me, "Shabana, it's Delhi, and its freezing January. What the hell are you doing___leaving your home and hearth, and sitting here, bang on the middle of the road, shouting your lungs out?
What for? And why? Have you lost it?
Well, to them as well as to you and all others who care to listen I say, "Yes, it's tough. It's tough, coming here, and joining this army of slogan shouters, it's tough crying my lungs out, it's tough facing the cold stares of hard boiled baton weilding policemen, it's tough listening to neighbours and friends and colleagues and even passersby and absolute strangers looking you in the eye and calling you names, telling you that what you are doing is anti-national, anti this and anti that.
It's tough to watch them spew venom on you and tell you to 'Go back to Pakistan'; its tough to know that these opinionators, most sitting in the comfort of their air conditioned homes and offices, sitting hot piping tea and passing plates of samosas and pakodas think you are less of an Indian or worse not one, just because your name ends with a Khan, or a Siddique or a Hussain or a Bano or a Parveen.
It's tough knowing that this country, my motherland, this place we call home and love with our hearts and souls may not be ours, that we may one day be driven away merely because people have thought so, because some narrow minded, thick skinned, power hungry mandarins in Delhi have laid down the definition of who is an Indian and who is not; about who is loyal and who is not, about who is qualified to be  a citizen and who is not.
Yes, if I sit here, braving the cold, and raising placards and shouting and screaming my lungs out, then I am doing it for myself, for my children, for my eleven year daughter who sits on my lap here and who I breast feed in public and for whose future I am worried.
Yes, if I am fighting for the idea of India that needs to be protected, that is under threat, that is in danger of being hijacked by a few bigoted, humankind hating power hungry political brokers who think that's the only way to keep on continue ruling this great land that our founding fathers had dreampt  of and built with the noble concept VASUDHAIVA KUTUMBAKAM___the world is one family.
Yes, i am sitting in and protesting, fighting for the preservation of this noble concept.
And  by doing so, it makes me a terrorist, an anti-national so be it.
I SHALL NOT MY PAPERS TO PROVE MY NATIONALITY.
FOR THAT YOU NEED TO PEEP INTO MY HEART AND FOR THAT YOU NEED TP HAVE A HEART.
#neelanilpanicker #politics #india #CAA #citienship #shaheenbagh
REF: https://thewire.in/women/caa-nrc-protests-shaheen-bagh
To read more such stories CLICK PHOTO CHALLENGE